Texas Precious Metals Contender for Building of Texas Bullion Depository
14 JUNE 2016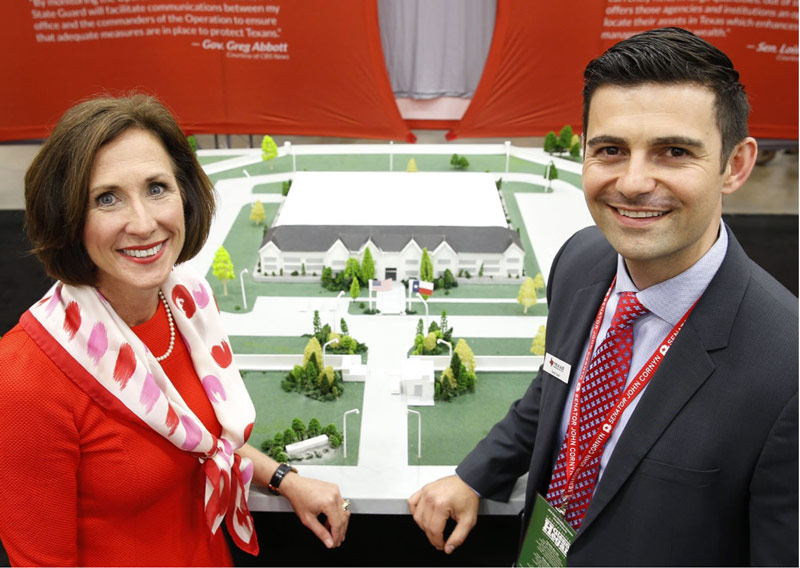 Tarek Saab, chief operating officer of Texas Precious Metals, and Sen. Lois Kolkhorst, R-Brenham, stand next to the 3D rendering of Texas Precious Metals' proposed Texas Bullion Depository at the state GOP Convention (The Dallas Morning News/Vernon Bryant).
Texas Precious Metals, a subsidiary of Kaspar Companies, has submitted a reply to RFI 212P regarding the Texas Bullion Depository, which was submitted by Texas Comptroller Glenn Hegar. The Texas Bullion Depository could benefit the state as a recruitment attraction for business and an asset for domestic and internal relations.
Allowing the nation's first state bullion depository to be established in Texas under the supervision of the state's comptroller's office, Bill HR 483 was authored by Texas Rep. Giovanni Capriglione, R-Southlake, and sponsored by Sen. Lois Kolkhorst, R-Brenham.
In May 2015, Bill HR 483 was approved by the House, and approval from the Senate came in May 2016. Bill HR 483 was officially signed by Gov. Greg Abbott on June 12, 2016.
"Today I signed HB 483 to provide a secure facility for the State of Texas, state agencies and Texas citizens to store gold bullion and other precious metals," Abbott said, "With the passage of this bill, the Texas Bullion Depository will become the first state-level facility of its kind in the nation, increasing the security and stability of our gold reserves and keeping taxpayer funds from leaving Texas to pay for fees to store gold in facilities outside our state."
On Sept. 4, 2015, Hegar issued RFI 212P. A total of 14 companies replied, including Texas Precious Metals. The task force assigned to this project is currently in the due diligence phase and has visited potential locations for the depository, including the Texas Precious Metals' headquarters in Shiner, Texas.
Texas Precious Metals has proposed a 46,473-square-foot facility with an external structure composed of 12-inch thick reinforced concrete walls. Forecasting a construction window of 15 months, a fully operational facility could be completed within 18 months.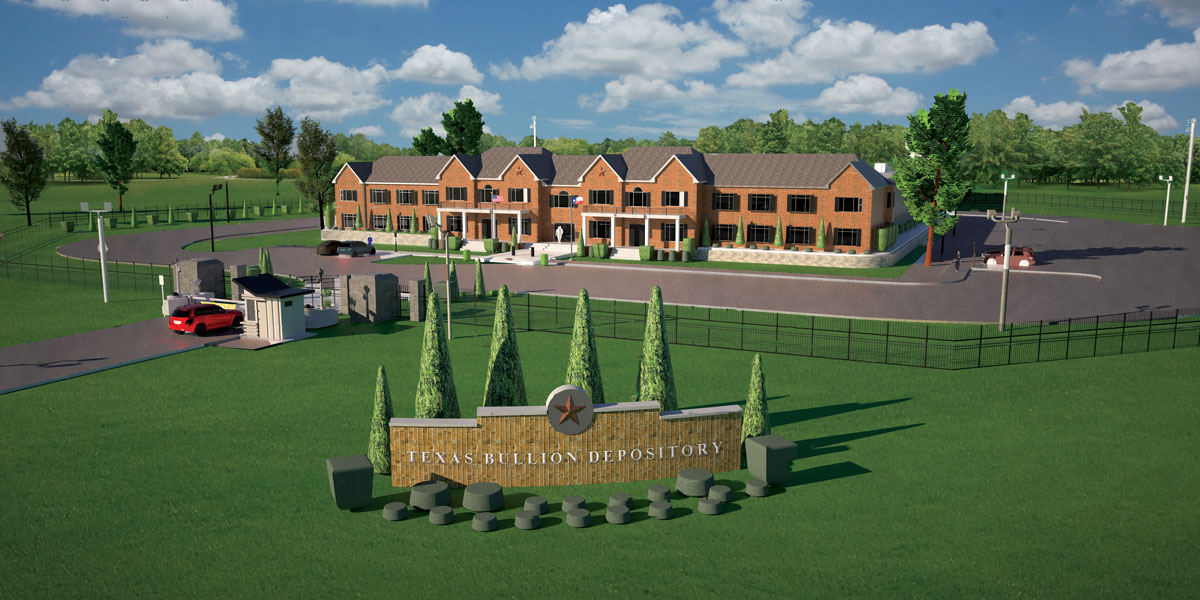 Digital rendering of proposed Texas Bullion Depository by Christopher Kaspar.
The recommended complex would feature over 27,324-square-feet of secured vaulted space, with 1,400-square-feet of Class III vaulted space. More than 40 IP cameras would be implemented and surveillance would be 24/7 in all unsecured, secured areas and outdoors.
Texas Precious Metals attended the Texas Republican National Convention with a booth which included a 3D model of the proposed facilities. The booth and the Texas Bullion Depository concept received politician and media attention throughout the convention, including coverage from American-Statesman, The Dallas Morning News and CBS News.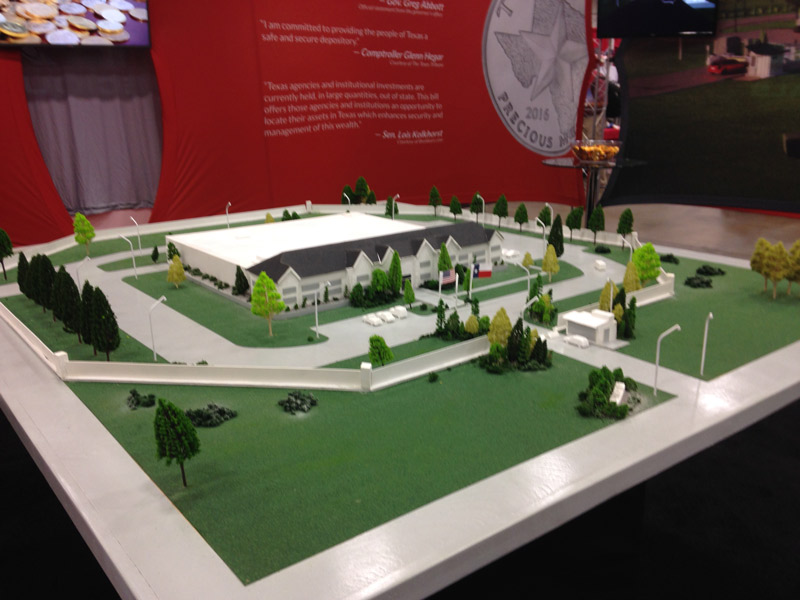 Texas Precious Metals' 3D rendering of the proposed Texas Bullion Depository facilities at the state GOP Convention.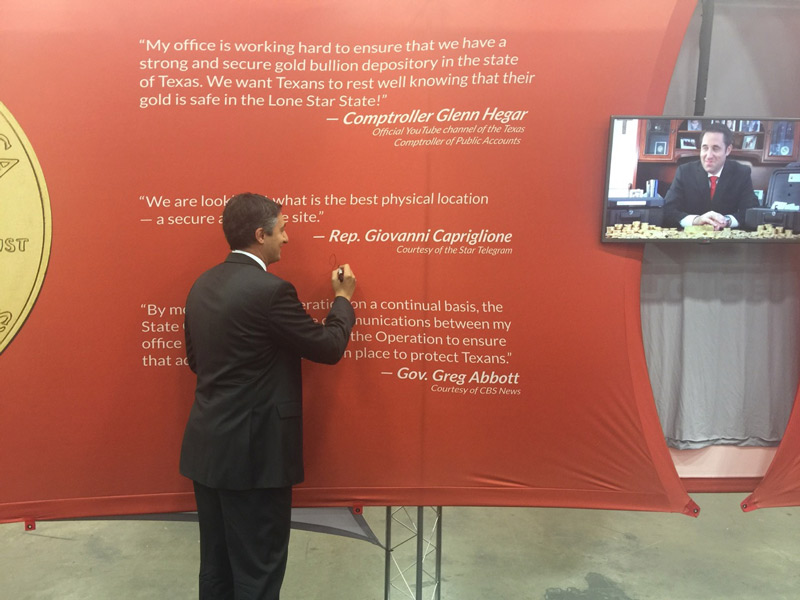 State Rep. Giovanni Capriglione, R-Southlake, signing his personal quote on Texas Precious Metals' trade show display at the state GOP Convention.
Since inception, Texas Precious Metals has sold more than 220,000 ounces of gold and around 7.8 million ounces of silver to retail and wholesale clients, exceeding more than half a billion dollars in lifetime sales.
"As a company, the secret to our success has been a persistent focus on solving problems and elevating the expectations of the marketplace," chief operating officer Tarek Saab said.
Texas Precious Metals was founded in 2010 and operates a 5,000-square-foot Class II private bullion depository in Shiner, where it stores company-owned precious metal holdings.